When I was 19 I moved to Lyme Regis, a small seaside town on the Devon/Dorset border. It was 1992. I'd never been there before, but my mum had recently moved in with a partner and I went to visit. It was a quaint town, with a high street on a hill above the sea, and beautiful beaches. I had recently left a relationship and wanted a fresh start with my baby daughter.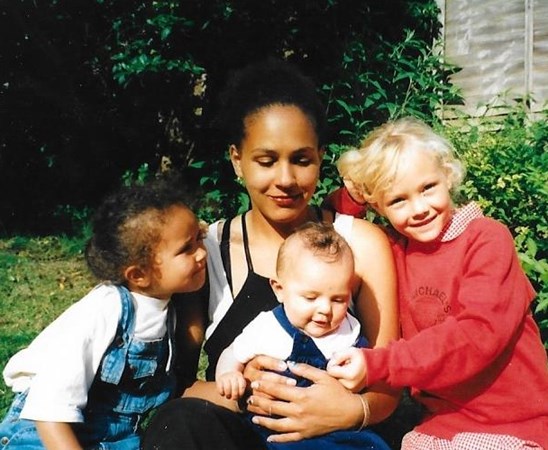 Darkness and light
When I think of Lyme, I think of darkness and light. Darkness because I experienced some traumatic events there. Darkness because it's an inwards-looking town, and outsiders can get the feeling they aren't welcomed by some of the locals, who have large, sprawling families who've lived there for generations. It feels cut off from the rest of the world, a claustrophobic bubble where your life is performed like a play in front of many curious eyes.
And it is stunningly beautiful. The light over the bay is like nowhere else. Artists have successfully captured this silvery light and its reflection in the sea. There are several beaches, each different. There are gold-topped cliffs in the distance, a long row of pastel-coloured beach huts, rock and stones and sand. The sense of history is palpable along this part of the Jurassic coast. You can almost imagine dinosaurs lifting themselves out of the rock.
Summer hordes and winter ghosts
As Lyme is flooded during the summer months with hordes of slow-moving, sunburned tourists, one can understand why there is a strong sense of ownership. Yet the town needs these tourists - or grockles as they are called - for its income. In the winter months, it is a place where ghosts of summers rattle in the wind, where giant waves rise and fall, and nothing ever happens.
A black family in a white town
I don't know what people made of me, a brown-skinned teenage mum with a white baby. As you can imagine, Lyme is a mono-cultural town - when I first lived there you could count the number of ethnic minorities on two hands. Being black in Lyme is like being a celebrity - everyone knows who you are. And if they don't know your story, they will make it up. I felt odd - there was nothing there to reflect my Ghanaian heritage.
Although I received little overt racism, I was surrounded by micro-aggressions - people telling racist jokes (which went unchallenged) or making comments about other ethnic minority groups; commenting on my hair and skin; using inappropriate terminology; and assuming anyone near me with brown skin must be a relative. At one point I had neighbours in the flat underneath who apparently didn't want 'blacks living upstairs' and drove me and my young daughters out. I had lots of friends but equally there were people who walked past me in the street, every day, for many years without acknowledging me. My daughters - with their varying skin tones - struggled being part of black family in a white town.