Hillingdon Civic Centre and integrated hard landscaping, including paving, planters, steps and walls
Overview
Heritage Category:

Listed Building
Grade:

II
List Entry Number:

1451218
Date first listed:

18-Apr-2018
Statutory Address:

London Borough Of Hillingdon, Civic Centre, High Street, Uxbridge, UB8 1UW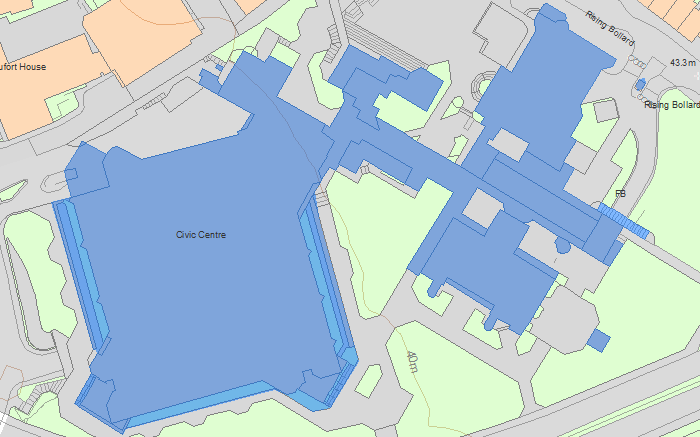 The above map is for quick reference purposes only and may not be to scale. For a copy of the full scale map, please see the attached PDF - 1451218.pdf
The PDF will be generated from our live systems and may take a few minutes to download depending on how busy our servers are. We apologise for this delay.
This copy shows the entry on 23-Oct-2019 at 11:20:16.
Location
Statutory Address:

London Borough Of Hillingdon, Civic Centre, High Street, Uxbridge, UB8 1UW
The building or site itself may lie within the boundary of more than one authority.
County:

Greater London Authority
District:

Hillingdon (London Borough)
Parish:

Non Civil Parish
National Grid Reference:

TQ0581183862
Summary
Civic centre, designed in 1971, largely built in 1973-1977, the civic suite completed 1978 and external works like landscaping in 1979, by Robert Matthew Johnson-Marshall (RMJM), partner in charge Andrew Derbyshire, project architect Terence Swales. The building also incorporates part of Middlesex county council offices of 1939 by C G Stillman.

The listed building includes integrated hard landscaping, including paving, planters, steps and walls. These elements are not included in the blue area on the List entry map as the map is schematic and their extent cannot be illustrated accurately.

Pursuant to s1 (5A) of the Planning (Listed Buildings and Conservation Areas) Act 1990 ('the Act') it is declared that the interior of the building (that is, those areas enclosed on all sides) is not of special architectural or historic interest.


Reasons for Designation
Hillingdon Civic Centre, 1973-1979 by Robert Matthew Johnson-Marshall (RMJM) is listed at Grade II for the following principal reasons:

Architectural interest:

* as an early example of English Post-Modernism which creatively reinterprets the Arts and Crafts tradition as an expressive composition of revivalist form and detail; * through its planning and elevational treatment the building's large mass is broken down into more intimate spaces and forms, offering a revised approach to civic architecture; * for its high level of craftsmanship, with a creative take on traditional brickwork detail, finely executed; * the building stands little altered externally, complete with extensive integrated hard landscaping.

Historic interest:

* as one of the first major works in England by a Modernist architect to embrace an overtly historicist aesthetic, marking the emergence of a new architectural zeitgeist.
History
The London Borough of Hillingdon was formed from four smaller authorities in 1965 as part of the government reorganisation of London: Uxbridge Metropolitan Borough, and the urban district councils of Hayes, Ruislip-Northwood, and Yiewsley and West Drayton. Uxbridge was seen as the communications hub for the area and the natural location for the civic centre. The site chosen had been home to the Middlesex county council offices, library and health centre, a building of 1939 by CG Stillman.

The councillors and chief architect, Thurston Williams, agreed that the new building should have an open plan to bring together 1,300 staff who had previously worked in many small offices across the borough. Williams produced a design brief in early 1969, and took councillors to see several office complexes in the UK, and to Volvo's offices in Stockholm, considered the closest continental example of what was needed.

In March 1970 the Welwyn Garden City office of Robert Matthew, Johnson-Marshall and Partners (RMJM) were appointed to the job, with Andrew Derbyshire the partner in charge, later joined by Alan Crawshaw. Initially, the RMJM team produced a modern building, but this was rejected by councillors who demanded it be redesigned in a traditional style. This was a reaction to the factories and offices in which they worked by day and to problems the borough had experienced with its modern, flat-roofed housing. They and local residents sought something more like the houses they lived in or aspired to. In a revised design Derbyshire grasped this aspiration and offered instead 'familiar and friendly materials, and a formal vocabulary well-known to the public'. Sources for the design were based on models from nearby counties, in particular the Arts and Crafts Movement, with Derbyshire admiring JP Seddon's church at Ayot St Peter and that by J Harold Gibbons of 1939 at Kempston, both near his home in Welwyn Garden City. It was also from the Arts and Crafts style that much mass housing, such as that found in suburban Hillingdon, had its origins.

The stepped section and serrated perimeter of the main offices were exploited to give the elevations complexity, with balconies and planting boxes. These were enhanced by pitched roofs set on the diagonal, which step down almost to ground level so that more roof is seen than wall. Derbyshire considered it unsatisfactory to have more than three storeys, as it is easier to communicate horizontally than vertically. He divided the large, square floor plate into four quadrants by a half-storey change in level, creating distinct areas each accommodating about a hundred people. The landscaping was developed in-house with Maurice Lee, whose contribution was fully acknowledged, marking a close relationship between it and the building.

Hillingdon Civic Centre reflects the change of emphasis in new local government buildings of the later post-war period. The tradition of building imposing statements of civic authority lost traction in favour of a more informal approach, intended to resonate with the communities being served. It is hard to appreciate the novelty of the building's appearance at the time of its construction, other than through the controversy it sparked. Coming from a practice like RMJM, and the committed Modernist, Andrew Derbyshire, it was seen by some as a betrayal of Modernism; the wrapping of a conventional office building in a historicist skin. Derbyshire's hand was to some extent forced by the rejection of his first, Modern, design by the client, but, as was recognised by critics like Gavin Stamp (AR 1979), he grasped the popular draw of traditional architecture and responded with a meaningful language, related to that of the semi-rural suburban area in which the building stood. To many commentators at the time, Hillingdon's new civic centre represented a new way of celebrating civic pride, initiated by a Conservative council and completed by a Labour one without significant changes in brief.

The partnership of Robert Matthew and Stirrat Johnson-Marshall was established in1956, with offices in Edinburgh and London. The practice was joined in 1961 by Andrew Derbyshire (1923-2016) when RMJM won a limited competition for the building of York University. Derbyshire had studied physics at Cambridge before turning to architecture. He studied at the Architectural Association and went on to design power stations with Farmer and Dark and schools for West Yorkshire County Council before becoming deputy city architect at Sheffield, where his most important work was the Castle Market (demolished). He had impeccable modernist credentials, making Hillingdon a marked departure of style.

Hillingdon Civic Centre is an example of Post-Modern architecture. Post-Modernism can be found across philosophy, literature, art and architecture, and the term is an old one, used in painting in the 1880s and literature in the 1940s. The term began to be used in architecture in the mid-1970s to signify a transformation of the orthodoxy of the Modern Movement that incorporated references to older architectural traditions, was more aware of setting and context, and sought enjoyment through colour and collage techniques. A clear distinction can be made between Post-Modernist architects, who all grew out of the Modern Movement, and traditionalists such as Quinlan Terry who had no such relationship with Modernism.

The origins of the style are found in the United States, notably in the work of Robert Venturi and Charles Moore from the mid-1960s, paying homage to all aspects of their country's traditions. A more rigorous, classically-minded version evolved in Italy in the work of Paolo Portoghesi, Aldo Rossi and Vittorio Gregotti; in Italian-speaking Switzerland Mario Botta offered a more over-scaled version, and monumentalism was also seen in Spain. In England, the American and European idioms converged in the late 1970s, where it produced major architects of international significance, including James Stirling, and distinctive voices unique to Britain such as John Outram. The movement in architecture coincided with the revival of the British economy in the 1980s that encouraged new commercial and housing developments in areas such as Docklands.
Details
Civic centre. Designed in 1971, largely built in 1973-7, the civic suite completed 1978 and external works like landscaping in 1979, by Robert Matthew Johnson-Marshall (RMJM), partner in charge Andrew Derbyshire, project architect Terence Swales. The building also incorporates part of Middlesex county council offices of 1939 by CG Stillman.

MATERIALS: the building has a reinforced concrete frame clad in narrow handmade brown brick in English bond. Brick planters are incorporated at ground floor and on upper balconies. There are covered ways at ground level reached from an open square to the front, these are paved in brick and concrete slab. Courtyards, paths and garden spaces are paved with brick. The very steep pitched roofs are tiled and the windows are of hardwood.

PLAN: the building is sited on an irregularly-shaped corner plot, between the High Street to the approximate north, and the curving dual-carriageway of Hillingdon Road to the east and south. The building is reached across a large square which opens from the High Street. The main entrance is to the south of the square. Behind, the council offices have a diamond-shape footprint and a stepped profile of three and four storeys, set over a semi-basement car park. To the east of the square, connected behind the main entrance, is a second, more irregularly shaped, part of the complex. This contains the council chamber, civic suite and registry office, and also has parking beneath. To the rear of this, visible to the south and from an internal courtyard, is part of the earlier 1939 building.

EXTERIOR: the building's exterior is complex and varied, its overall aesthetic defined by dramatic roof-lines and modelling, executed in the warm tones of brick and tile. The windows are set flush into shallow recessed panels with a toothed course at the head.

The entrance is reached up a flight of steps, within a raised single-storey loggia-like pavilion with its own steep roof. The main elevations over-looking the square have glazing arranged in a grid, over a partially open ground floor, raised over covered walkways. Over the range to the east, the clock tower from the earlier building has been resited, and at the front, facing onto the square is a bank of landscaping.

To the south the covered ways open into landscaped gardens with brick paviors and planters. To the sides and rear of the offices the roofs step down over the first and second floors, where the square fenestration is set between brick piers, with some square blind panels above. Multiple small bays, some set at angles, appear to cascade down the building. The semi-basement is set-forward as a plinth to the sides with arched openings providing light, and to the rear, ventilation for the car park. Entrances and exits are at the corners of the plan. The east side of the complex also has varied roof forms, but with a larger scale, and more irregular massing. This part of the complex contains the remains of the 1939 building, visible to the south. This has a distinctive Moderne style, with deep, semi-circular projecting wings and wide multi-pane steel windows. The building is also visible from an internal courtyard, where it has a more classical style, with light red brick over a Portland stone ground floor.

Subsidiary features: There are a number of paths and open spaces around the building paved with a mixture of brick and slab. There are raised brick planters, and the change in levels across the site is addressed by steps, ramps and high-level walkways, also of brick.

Pursuant to s1 (5A) of the Planning (Listed Buildings and Conservation Areas) Act 1990 ('the Act') it is declared that the interior of the building (that is, those areas enclosed on all sides) is not of special architectural or historic interest.
Sources
Books and journals
Franklin, Geraint, Harwood, Elain, Post-Modern Buildings in Britain, (2017), pp. 60
Harwood, E, Space, Hope and Brutalism, English Architecture 1945-79, (2015), pp. 559-561
Other
'Hillingdon Hits Top Place in London's Poll of Buildings', Building Design, no.684, 6 April 1984, p.36
Andrew Derbyshire in conversation, 28 April 2010
Andrew Saint, 'Sir Andrew Derbyshire obituary' at www.theguardian.com, accessed 13 June 2013
Architects' Journal, vol.157, no.4, 24 January 1973, p.192
Architects' Journal, vol.163, no.6, 11 February 1976, p.265
Architects' Journal, vol.165, no.20, 18 May 1977, pp.927-44
Architectural Review, vol.151, no.901, March 1972, pp.145-7
Building, vol. 222, no.6720, 10 March 1972, p.104
Building, vol.224, no.6764 (3), 19 January 1973, p.53
Gavin Stamp, 'How Hillingdon Happened', Architectural Review, vol.165, no.984, February 1979, pp.80-92
Gavin Stamp, 'Suburban Affinities', Twentieth Century Architecture, no.10, The Seventies, C20 Society, 2012, pp.136-51
Hillingdon Council Minutes, 1969-76
Progressive Architecture, vol.60, no.8, August 1979, pp.74-9

Legal
This building is listed under the Planning (Listed Buildings and Conservation Areas) Act 1990 as amended for its special architectural or historic interest.